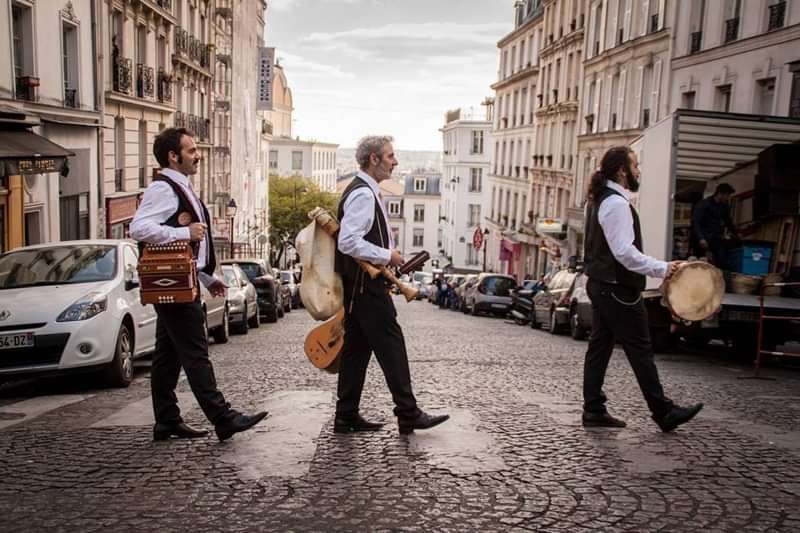 London Roots Festival & The Music Halls Project presents:
Telamure and Andy Cutting
Telamure + Andy Cutting
Entry Requirements: Under 14s accompanied by adult
Raised into a musical tradition inherited from the people of their own villages, Francesco et Giovanni Semeraro, natives of the Puglia region and the calabrian Francesco Rosa, are melting their stories and instruments in the popular districts of Paris since 2008. Tarantella roots, their latest album, presents a musical trio with spontaneity and freshness, mixing the variety of instruments, the power of voices, the sensuality of dance and irresistible rhythms. Their show takes you to the heart of the popular South Italian lifestyle and culture, offering live music and folk dance.
The show also exists as a performance in motion with a forth musician : The hairy band is an acoustic quatuor with traditional costums and instruments which immediately calls the passion and trance from South Italy popular festivals.
TELAMURE has played in prestigious concerts rooms in Paris as Le Cabaret Sauvage, Le studio de l'Ermitage, La Bellevilloise, le 104 and importants events like Festival d'Ile de France (Arcueil), Festival des villes et musiques du monde (St-Denis), Traversées de Tatihou (St-Vaast-la-hougue), Artpole Festival (Ukraine), Antitapas (Belgium), Ballati (Italy), Radicazioni (Italy).
Andy Cutting
Andy Cutting is a rarity. A musician's musician (BBC Radio 2 Folk Award Winner Best Musician 2008, 2011 & 2016): a soulful and technically outstanding melodeon practitioner with an ear for a fine tune. Many of his tunes have been purloined along the way: some considered contemporary classics on the folk scene. But then, Andy is also a warm and emotive performer, modestly engaging his audiences with his self-deprecating wit and then flooring them with downright staggering musicianship. There are few melodeon players who put so much feeling into their playing, whether it is a set of dance tunes, or accompaniment to a slow English ballad.
Andy has been consistent musical force since he came swiftly to prominence with the innovative Blowzabella. As well as a thorough grounding in the English tradition, Andy's influences extend way beyond these isles, particularly to the music of Central France and to the storming Quebecois tradition. These influences will be well-known to all those familiar with Andy's duo with English fiddle player, guitarist and singer, Chris Wood. Wood & Cutting became one of the most influential, and enduring, duos on the scene; paving the way for the explosion of many of today's thrusting young newcomers.
Andy's commitment to, and sense of pride in traditional music, as well as his sensitivity and understanding of the form, has made him one of the folk scene's most wanted, playing with Kate Rusby, John McCusker and Under One Sky to name but a few. There is also a growing demand for him to play outside this genre (having recorded with Sting, John Illsley (Dire Straits) but most recently being asked to join The Who for an acoustic concert in aid of the Teenage Cancer Trust. As well as his ongoing work with Chris Wood, Andy is currently working with Martin Simpson, June Tabor and Blowzabella.