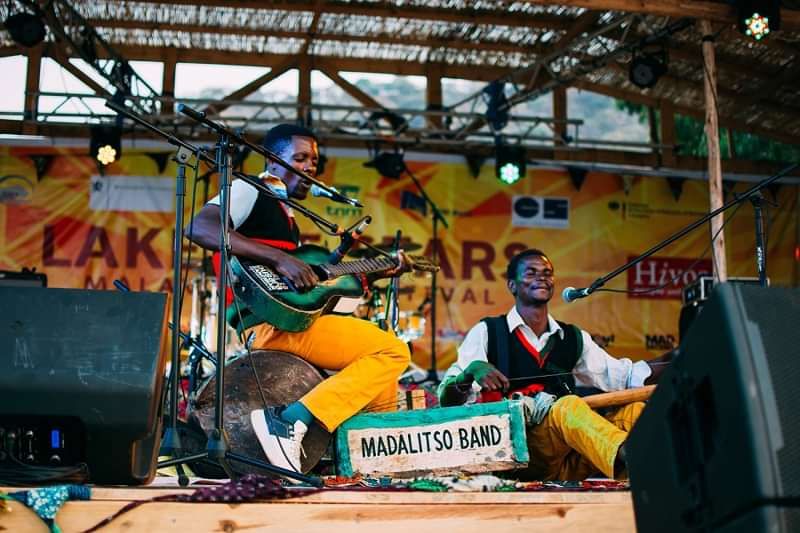 Music Halls Project presents:
Madalitso Band
Rapasa Nyatrapasa Otieno
Entry Requirements: Under 14s accompanied by adult. Doors at 6:30 pm, music starts at 7:30 pm
Music Halls Project and Lake of Stars join forces to present a night of live music from southern and east Africa.
Traditional duo Madalitso Band play authentic, acoustic roots music from Malawi, featuring the distinctive one-string slide bass, known as a Babatone. Rhythmic playing and a joyful stage presence combine to make you want to clap, dance and smile.
In less than two years the two-piece have gone from busking on the streets of Lilongwe to being featured on BBC Africa, touring Europe and playing renowned international festivals including Lake of Stars, Roskilde, Sauti Za Busara and soon to be WOMAD.
Watch their performance for the BBC's Global Beats programme.
Latest album Waslala, their first with an international release, is out now on Bongo Joe Records. With a stripped-back and raw vibe, it's a tribute to the Madalitso live experience. The Babatone, four string guitar, cow-skin foot drum and two lush voices in harmony are presented undiluted and in their natural state.
Listen to the album on Bandcamp.
Rapasa Nyatrapasa Otieno
Kenyan singer, songwriter, multi instrumentalist and contemporary dancer Rapasa Nyatrapasa Otieno plays several indigenous instruments including the Adungu, Nyangile, Poko, Obokano, Oporo and Ongeng'o amongst others. However his principle instrument is the Nyatiti, an eight-string lyre from the Lüo community in the western part of Kenya.
Extensive research and time spent studying with masters of Nyatiti in the villages (Alego and Ugenya) has allowed Rapasa to develop a deep understanding of music from a traditional and contemporary view point. His own music fuses the traditional heritage of Nyatiti playing along with his own unique sound. Tipona, his debut album, is a spiritual journey through the eyes of a young village boy stepping into manhood.