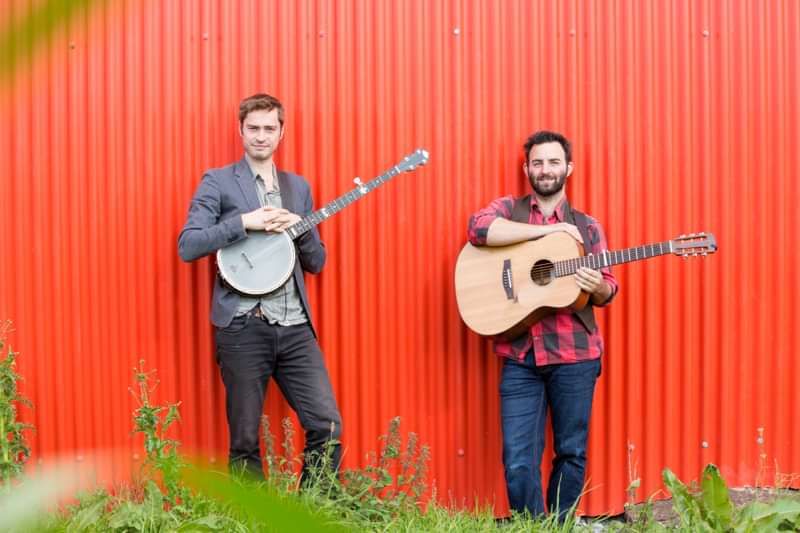 Music Halls Project presents:
Jimmy Aldridge & Sid Goldsmith
Jess Hall
Entry Requirements: Under 14s accompanied by adult. Doors at 6:30 pm, music starts at 7:30 pm
Jimmy Aldridge & Sid Goldsmith are one of the finest duos to have emerged onto the British folk and acoustic scene in recent years. Their unique ability to make old songs seem relevant and new songs sound ancient has brought them widespread critical acclaim and earned them a nomination for 'Best Traditional Track' at the 2019 BBC Radio 2 Folk Awards for 'The Reedcutter's Daughter'.
"To be a great folk singer, you have to be a great storyteller, as Jimmy Aldridge and Sid Goldsmith are clearly aware. The duo are both fine singers and multi-instrumentalists" The Guardian
Performing live, the duo blend a celebration of traditional music with a deep integrity and sincerity that stems from their passion for the social themes within the music. There is a common thread of political struggle, resistance, and justice as well as the occasional love song. Managing to be both hard-hitting and uplifting, it is this ability that justifies their reputation as two of the most exciting musicians and social commentators on the scene.
"Making common cause between antique songs and present circumstances is one of the grails of modern folk, one this young duo pull off impressively…Rousing stuff." The Observer
"Observations about modern life blend seamlessly with traditional material, delivered with rare poise and delicate musicianship. What particularly stands out on all the self-penned numbers is the duo's ability to treat contemporary subject matter effectively in folk music." ★★★★ Songlines
​"Determinedly forthright singing and empathetic arrangements give a compelling intensity and freshness." ★★★★★ fRoots
Watch their live performance of The Reedcutter's Daughter
Jess Hall
Jess Hall hails from the Devonshire coastline via Oxford and now resides in Walthamstow. Described as 'a voice to lose yourself in' she sings songs of love and loss with echoes of the shorelines she left behind in Devon. Her stylings navigate between the traditional, the hymnal, and the ballads of folk.
"Elegantly melodic...captivatingly voiced English folk singer" FRoots Magazine
"Luminously voiced" Whispering Bob Harris, BBCR2
Watch her performance at Union Chapel, London: Dearest Heart